Turn ANY Keap Form into a Quiz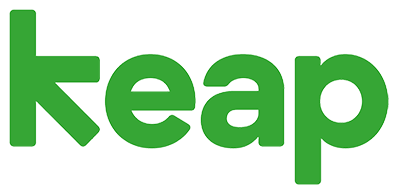 If you've heard anything about the benefits of quizzes in your marketing, you know they can have a MAJOR impact on your conversion rates. Quizzes are interactive, engaging, and informative.
kQuiz isn't 3rd Party
Quiz Software you pay
for every month.
It's Custom Dev that you own.
We take your Keap form and turn it into a quiz that you put directly on your website.
★ All Quiz Answers are stored directly with your contacts in Keap.
★ Quiz Analytics are reported using your Google Analytics.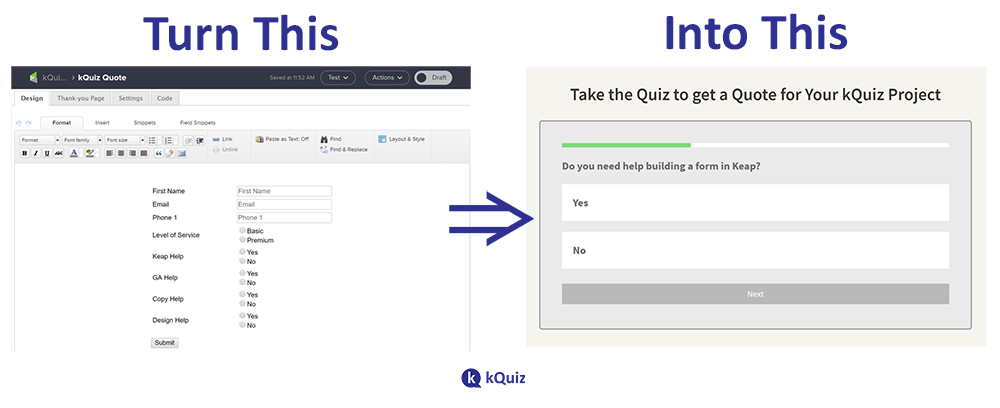 BENEFITS
Take ANY Keap Form and Turn it into a Quiz.
Segment, Set Tags, and Send Emails in Keap Based on Answers or Grade.
Fully Customizable Styles.
Loads Directly from Your Server for a Better, Faster Experience.
Works with ALL Websites. Just needs HTML, CSS, and Javascript.
BASIC OPTIONS
Advance on Answer or "Next" Button.
Overall Grade After the Quiz.
Save Grade to Keap.
PREMIUM OPTIONS
Question Branching Based on Answers.
Required Fields with Instant Validation.
Allow Review or Edit Answers.
Share on Social.
Images or Videos for Each Question and/or Answer.
Choose Which Questions Get Saved to Keap.
Starting from $500 per Quiz
Take the Quiz to get a Quote for Your kQuiz Project
I HAVE QUESTIONS…
How long is it good for?
kQuiz isn't a 3rd party SaaS software that you have to pay for each month. It is custom development. When we are done, you own the code. You can put it anywhere you want. Most companies only ever use one or two quizzes (or surveys) in their sales funnel but have to pay for the software every single month. One of our clients has been using the same Quiz since we built it back in 2012.
How long until I get my quiz?
Most quizzes are completed within One Week. Some longer quizzes or if you need additional design and dev services may take longer.
What if I need changes later?
We are happy to support our quizzes and your changing needs. We charge an hourly rate of $75 per hour for this work. Most changes can be done in under an hour.
What if I need more than 1 Quiz?
We can make as many quizzes as you like.
I already have a quiz, can you convert it?
If you are already using a Survey or Quiz software, GREAT! And yes, we will happily convert it for you.
What is Contour This?
kQuiz is a part of Contour This. Contour This, LLC., is a digital marketing agency that focuses on Conversion Rate Optimization located in Chandler, Arizona, established in 2011.
Do you do other stuff?
Contour This is a full service digital marketing agency, who along with our partners, can help with all your digital marketing needs. Our core service is Conversion Rate Optimization and Analytics: building funnels and tracking everything to make intelligent improvements. Our support services include design, development, copy writing, data analysis, email, and marketing strategy. Our partners service everything else: PPC, SEO, Social, PR, Branding, and more.
How do I get started?
Fill out the quiz above and we'll contact you to confirm your project details within the next 24 hours.